DJ's Firewood is your source for Oak, Pinion, Hickory, and Mesquite firewood in the Dallas - Ft. Worth metroplex.

We are a full service firewood dealer. We have firewood for pick up or delivery. Our seasoned firewood is sold in cord, half cords, quarter cords and bags. We will be happy to deliver and stack our firewood at your home or business.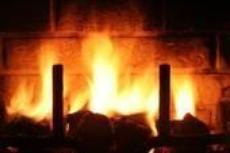 Types of firewood that we offer in the Dallas area:

Oak - Is a long burning firewood most commonly user for heating homes. Most of the oak we have has been seasoned for at least a year.

Mesquite - Is a wood that is mostly used to bar-b-que all different types of meats.

Hickory - Is a very heavy and hard wood that can be used for heating, but is mostly used for cooking.

New Mexico Pinion - This is our most popular wood. Pinion smoke has a wonderful scent that will make you think you are in the mountains. This wood is also known to keep mosquitos away.

All firewood can be delivered and stacked at your home or business. The wood can also be bagged for you.